🧘 classes 🧘
UPCOMING WORKSHOP: Crystal Clear Clairvoyance ☘️
November 21st, 10AM - 1PM at the Innermost Gardens in Mt Victoria, Wellington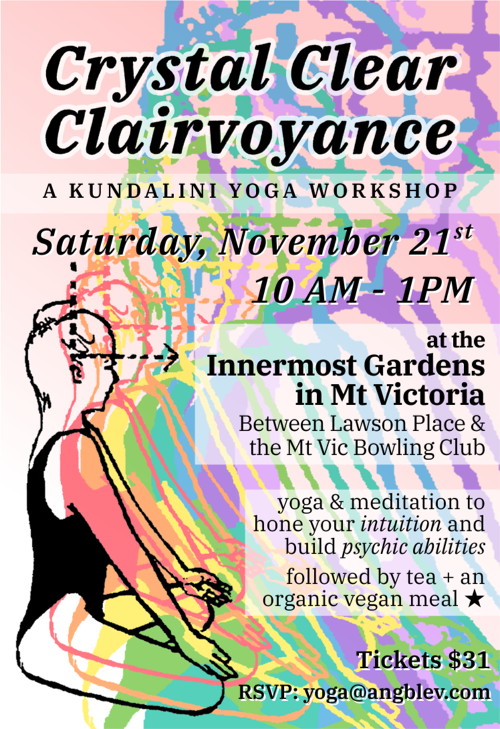 Workshop includes Kundalini Yoga sets and meditations to help hone your intuition and build psychic abilities. Followed up with fresh tea and a balancing yogic meal made from local + organic ingredients. Includes take-home materials and goodies! $31/person -
email me to secure your spot!
online
FUTURE_YOGA: the online class
Thursdays 1-2pm NZT/Wednesdays 5-6pm PST
click HERE for video portal -- opens a few minutes before class starts 💻
Upgrade yr body + mind to be able to handle the amount of digital information you put into and surround yourself with! Join us for an hour of FUTURE YOGA from the comfort of your own computer. Using a mix of ergonomic exercises, desk stretches, tantric yoga, and mind training, we'll tune ourselves up every week so you can exist more comfortably around your computer and phone.
This class has the cameras turned off so you can tune in. ✨ Instead, each week's lesson will be a mix of hand-drawn illustrations, videos, and lovingly coded websites.
offline
Kundalini Yoga in Wellington, NZ:
Innermost Gardens
at the foot of Mt. Victoria, between Lawson Place & the Mt Vic Bowling Club
Tuesdays 6-7:15pm
A slightly more hardcore class - longer sets that really challenge our resistance, sometimes a bit sweaty. Mostly about the internal work, though.
Newtown Community & Cultural Centre
Corner of Rintoul & Colombo St
Wednesdays 10-11am
The softer, more meditation-oriented class. Lots of adjustments offered. Always includes a good rest.
---
All of my regular classes are koha/donation-based. You can bring fruit or cash or send $ via NZ bank transfer (A BLEVINS 38-9019-0773610-01) or Venmo (@Angelica-Blevins). But, don't worry if now is not a good time to pay. All are welcome :)
---
For inquiries about private lessons, tailored group sessions or workshops, just drop me an email ✌️